Mathematica For Students
Download And Activation Instructions - ITS CWRU Software Center
Mathematica has a different downloading and activation procedure compared to other titles in the CWRU Software Center. The software and activation code will be obtained from a Wolfram website set up specifically for CWRU users. Please read this entire document to become familiar with the process before clicking on the link below to start the process.
Begin the download and activation process
CLICK HERE to go to the Wolfram User Portal to obtain Mathematica
How to use the Wolfram User Portal

When you click on the link in the email above, you will be sent to the Wolfram User Portal login page. If you have an existing Wolfram account, please log in. Otherwise, please click on the "Create Account" button and follow the on-screen prompts to create your Wolfram account. PLEASE NOTE: In order for you to be properly recognized, please use your Case email in the form of "case.user@case.edu". Please do not use "cwru.edu" or "gmail.com". Please see the illustration below:
---
If you are creating a new Wolfram ID, please enter the information as show above and click on "Create Wolfram ID". Please note that "Case User" is for illustration purposes only, you should use your real name and Case email address.
---


<![if !vml]>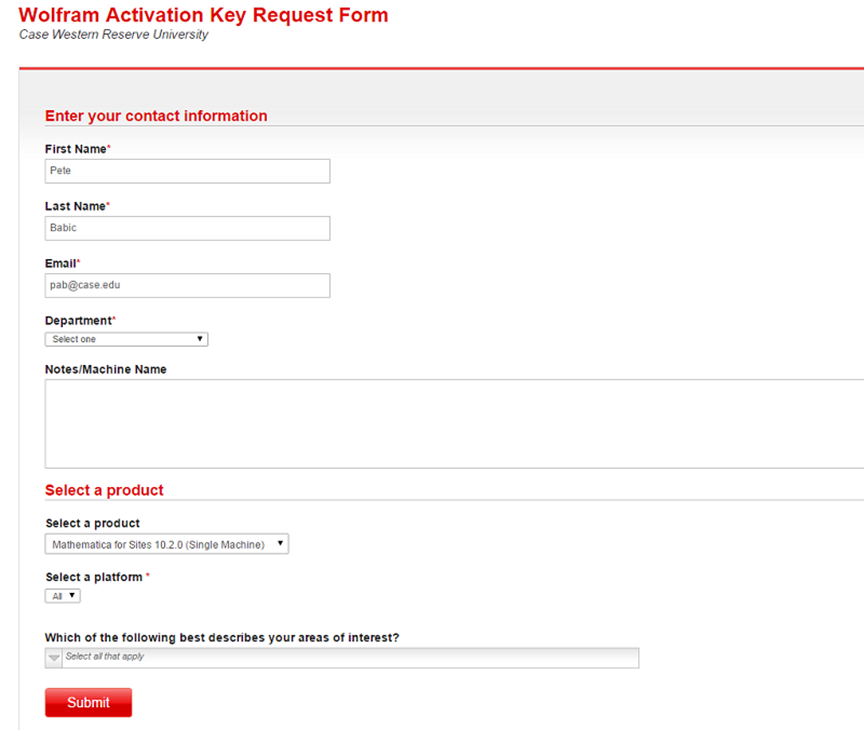 <![endif]>
Please enter your contact information as shown above. If you login to your Wolfram account, this informtion should already be filled out for you. Please make sure "Mathematica for Sites (Single Machine)" is selected as show. Press "Submit" to generate your activation key. NOTE: you will see an email validation message if you have created a new ID. Please follow the instructions. You will not see this message if you login with an existing account.
---
Your activation key has been created, please click on "Product Summary page" to continue.
---
To gain access to your product, you must register your product. Please fill in the information as shown, using your real name and other information, and press "Finish" to continue.
---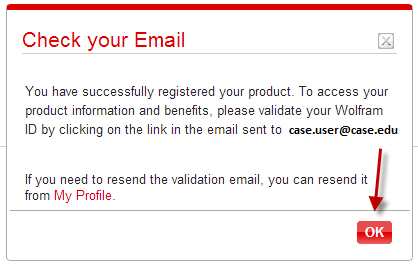 After product registration, please validate your Wolfram ID as shown above and click "OK" You will need to sign into the portal again and follow the steps to get to the "Product Summary Page".
---
This is the "Product Summary Page". Scroll down and download Mathematica 10.4.1 for either Windows, Macintosh or Linux.
How to Install Mathematica 10.4.1
After you download the product and obtain your activation code, please follow the illustrated instructions below to install your software:
Welcome screen, press "Next >" to continue.
You may keep the default install folder or change it to something else. Press "Next >" to continue.
You may select if you want to install the optional components. Press "Next >" to continue.
You may modify the Start Menu folder name or choose to not create a Start Menu folder. Press "Next >" to continue.
The installer is ready to begin. Press "Install" to start the installation process.
Installation in progress, please wait…
Installation is complete. Press "Finish" to exit the installer. When Mathematica 10.4.1 is run for the first time
you will need to enter the activation key you obtained from the Wolfram User Portal. Please enter the
key and press "Activate".
For installation or activation help, please contact the ITS Help Desk at 216-368-HELP